Artist:

Director John Chuldenko and

writer Sean Blythe




Section:

Interview


Importance:

A great independent film.


The Plug:

http://www.fakestacy.com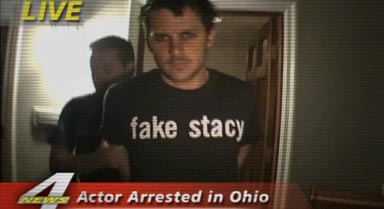 Fake Stacy is a short film about... Well, just read the first question and you'll figure it out. This interview is with the Director John Chuldenko and writer

Sean Blythe

. Their film made it to the Sundance Film Festival, and I think it's really, really great. The movie isn't online yet, but this interview is more about film makers living the dream, rather than the movie itself.


Make sure to click on the links to read Sean and my tangents. Make sure your popup blocker is off.

~~~~~~~~~~~~~~~~~~~~~~~~~~~~~~~~~~~~~~~~~~~~~~~~
Let's talk about movie making:
You wrote a short movie about a has-been child star that played twins on a tv show but was only credited for one role, and everyone talks about her as she walks by. What was the motivation for this script?
I had this collection of fragmented ideas that never seemed to fit anywhere.

I wanted to write a story about paranoia, where everyone is literally talking about a character behind her back.

I wanted to write something about Friday night television, and how there are certain shows that I loved as a kid, that my cooler friends who went out on Fridays never even heard of.

I always liked Kieslowski's movie "The Double Life Of Veronique" and thought it would be interesting to... y'know, rip it off.
Anyway, it was all this kind of stuff that didn't make sense in a feature. I didn't really have a central idea that tied all of that together.
Then, one day, I was watching the E! True Hollywood Story about The Brady Bunch, and they mentioned that when they did the Brady Bunch Variety Hour, they replaced Eve Plumb with another actress. And that the fans of the show called the new girl Fake Jan. And then I changed the channel and saw Alan Thicke say (innocently, I'm sure) that he wished he had two Tracy Golds, one he could work with as his daughter on Growing Pains and one he could keep for himself.
And I think I literally said out loud: "Oh!"



Which Friday night shows are you talking about?


There was this one I had in mind while I was writing Fake Stacy called Small Wonder that was on Fridays, which was horrific but massively watchable, like a car wreck. It was about a guy who built a robot daughter for himself. It had that creepy pedophile undertone that a lot of those 80s shows had — Charles In Charge, Diff'rent Strokes — but it was syndicated and so even lower budget and grosser than those shows. Silver Spoons is another show I hated and watched all the time, although people know that one (and I think it was on Saturday nights). There's a terrible joke in Fake Stacy about Mutant Ninja Turtles that I'm kind of proud of, and it makes me think I could have written for one of those shows.
Friday night shows really are perfect television, because they get at that intimacy that makes even bad TV fun. You get the feeling you're the only one watching while everyone else is out living a real life. I think that's what made The X-Files so great in those first few years — you felt like you discovered some other world than no one else knew about. Right now, Joan Of Arcadia is an almost perfect Friday night show. You get surrogate friends for an hour at 8.



How long from conception to final draft did it take you to write this?




A lot of the ideas in the movie had been rattling around in my head for a long time, but the practical writing of the script took about two weeks. It's a long script because people talk so much — the original was like 35 pages. I mention this because I don't want people going "It took him two weeks to write 12 pages?"





This is a big cast with lots of locations. Does that make it tougher or easier to shoot?


Our schedule was challenging to say the least. But for me, it's also a lot more fun to work at that level of intensity, and to have such a large cast. Sean and I really wanted to make something ambitious. Production-wise, it's just a matter of planning as best you can. As a director, it's all about preparation; I had a ridiculously detailed shot list, and storyboards for the trickier parts. On a production like this, things are going to go wrong, it's flexibility and resourcefulness that saves your butt.

Let's talk about celebrity help.
You have Larry King in the movie, how did you pull down that kind of star power?
Larry King is a friend of my family, and he and CNN were so generous for helping with the movie. I think Fake Stacy is the only time Larry King appears in a film as a character, and not on his CNN set. His role in the film really adds to the paranoia that Claire is feeling. Actually, the part was originally for Roger Ebert.



What were the big surprises that you encountered trying to make this film?


"Surprises" is an interesting way to put it. "Nightmares" would be another way. We got shut down by two security guards while filming downtown on Easter Sunday, It was bad, We had to move everything to a nearby spot where the security guards couldn't see us, match the angles, and eye-lines, and get the shot before the guards figured out what we were up to. It was real sneaky, covert stuff. The whole last scene of the movie was basically stolen.



What cool things happened to you as a result of it being shown at Sundance?


Sundance is amazing. Having a film there is very different than just attending. It's like a rite of passage, because Sundance is so synonymous with independent film. It's thrilling to be a part of the festival. Sundance is also a great place to get to know the other filmmakers, hang out and share ideas. You've got press events, meetings, a lot to navigate. I feel better prepared to go out with a feature film, having screened Fake Stacy at so many festivals. Okay, actually it's the gift bags. Gotta love swag.



I hate to be tacky and gross (actually I love both of them, but if you start off that way people think you're a complete ass), but how long did it take you to make this film, and now for the gross part, how much did it cost?


Principal photography lasted five days... Long days. We had a half day pick up shoot for Larry King. We were in post production for about four months — telecine, edit, ADR, sound mixing, digital intermediate, print timing, and visual effects, (the footage in the TVs is all added digitally)
Ahhhh... It's hard to say what it cost. So many great people donated so much of their time and services, if we had to actually pay for everything, I can't even imagine. But let's say at the end of the day, it cost about the same as a car. A pretty nice car. With leather.



I really dig the music, where did you find it and was it tough getting bands on board?


The soundtrack features Built to Spill, Dntel (of The Postal Service) Goldenboy, Let's Go Sailing, and Rilo Kiley. Music is really important to me, and I love the impact it has in film, and on people in general. Many of the bands are friends of mine, and it was flattering actually, when they saw the rough cut, and were excited to be a part of the film.
It was also really cool that Fake Stacy was selected to screen at South by Southwest and CMJ, both are music festivals that also screen films that exhibit a creative soundtrack, which I thought was pretty rad.



How did you meet John and how did you know you'd work well together?


John and I used to work together back when we made commercials, so we've been good friends and working well together for a lot of years. I'm not entirely clear how we came to make movies together. I think it started when I was living on his floor for a couple of months and it just sort of evolved out of conversations that began with "Know what would be cool?"
The key to working well together is to respect the other person enough to stay out of the way unless you're really sure you're right. John telling me, for example, that the second half of Fake Stacy probably shouldn't be in French was a good time for him to cross that line. Conversely, me telling John to not have the puppet in that one scene look at the camera was a time that maybe I should have backed off, because it consistently gets big laughs. Live and learn.



How did you get into doing commercials?


I was a senior in college with a political science major and absolutely no interest in law school. And I could write, and that's about all I could do. Advertising looked fun and easy, at least on TV. So I bought a Mead 5 Star notebook and filled it up with scripts for commercials and poorly rendered print ads and I took it around to agencies. I had a job within about three weeks, and stayed for a good long while.



The entire movie is breaking the fourth wall, which is really risky. Any fears about this totally sucking?




Not really. I think we were pretty safe because we had a specific purpose in mind, and we were consistent in the way we used both the voice over and the breaking of the fourth wall. It's not like we played it straight the whole time and then broke the fourth wall just for some random joke, which is when that kind of thing is really jarring and the realism of the film is broken. I don't think movies need to be realistic as much as they have to adhere to some internal logic. "X-Men" lives in a world where people have claws and laser eyes. "The Wizard Of Oz" lives in a world with flying monkeys. "Fake Stacy" lives in a world where people talk to an unseen audience. If Fake Stacy had been a moody, talky little comedy up until the point where Claire battles some flying monkeys with her claws and laser eyes... see, that's not consistent with the world we created, and that would have been wrong. Cool as shit, but wrong.





Now that you've had a hit with this film what's next?


Sean and I are hard at work on an ensemble feature project set to shoot this summer. Our hope is to be able to actually pay the crew this time.



What did I forget to ask you?




Ask me if I can drive a stick.





Can you drive a stick?




I'm the stick master! Wait, that doesn't sound right.